Royal Tent manufactures high quality tents of exclusive arch design and geodesic domes. Arch tent is a new modular tent system that rapidly taking the market in the Middle East due to its beauty, reliability, and elegance. These are new level tents for event industry that will change the perception of the tent as something standard, ok, "does the job" to something Wow, Amazing, Nice, Elegant even for a simple or a low budget minimalistic event.
Check out our Arch Series to see the benefits of this amazing tent system.
---
Advantages in dealing with a manufacturing company
There are many companies in the market who offer tent rental services, but only a few are manufacturing them. Have you ever found yourself in a situation when things go wrong? or there is an emergency? or a sudden change of plans?
For an event involving temporary structures chasing the reliable supplier is crucial. Your entire set up depends on that...
Here are the main benefits that you will have dealing with a manufacturing company:
They have it in stock! And even if they do not, they can make it fast
They guarantee the quality, as they are the ones who made it. They know what is possible and what is not. They know that the size will match and know the true limits of the structure.
They can always give you a better price and a better quality, they can even give you a brand new tent on the rental basis for the same price. Just ask for it.
Speed of delivery. If they are the ones made it, no one else can be faster to install it. We all saw cases when you buy something and then break your head how to assemble it.
They can repair and do a better crisis management in a force majore situation or when you have a sudden change of plans and the client requested extension, replacement redesign of the floor plan or anything like that. There is no word impossible.
Branding. Only a manufacturing company can offer you a proper branding solutions, that will look organically with the structure and be cost effective.
Made in the UAE
We manufacture our beautiful tents in the UAE. That means fast lead time, guaranteed quality that can be checked before making the purchase, great value of a high quality product. Extended warranty, maintenance and repair service, installation and operation assistance.
We work 24/7, and there is literally no period of time when we are not accessible.
We are using only certified materials and parts from worlds top producers of PVC fabric, only proven and certified steel and corrosion protection.
We follow best environment and quality standards and practices.
Tents and Events Rentals
We offer a turn-key tent rental solution for all types of events and deliver everything with passion and excellence as true perfectionists. Here are some of the regular types of events where we supply our tents:
Event set ups for mass public events and festivals, weddings, premium cars and luxury product launches, advertising campaigns, temporary sales office, exhibitions and sport events.
Health centers and Multipurpose venues for hotels as restaurants, banquet halls or sport grounds.
Medical tents, screening tents and temporary medical facility.
Yacht clubs: For restaurants and banquet halls.
Golf clubs: For banquet halls, training space, conference halls.
Government institutions: exhibitions, street fairs, public and outdoor events, sports competitions and infrastructure project openings.
Catering services: For kitchen, technical zone, banquets and food events.
The one most important thing that unites all our installation - is Perfection.. And by Perfection we mean it all: quality, speed of installation, punctuality, safety, reliability, crispy clean shininess and attention to details.
How to choose a tent correctly?
The size of the tent that might be required for your event will depend on the nature of your event and your special requirements. You can follow general industry standards and our recommendations to have initial idea of the Tent Area vs Required Capacity:
Type of the event
Required tent space per person
Luxury wedding
Standard wedding
Majlis
Banquet
Catering tent
Cocktail reception
Meeting room
Conference tent
Briefing room
3-4 sqm per person
2.7 sqm
4 sqm
2.5 sqm
2 sqm
1.5 sqm
2.2 sqm
1.7 sqm
1.5 sqm
We will offer your the best option to match your requirements and event's objectives. The modular system of our tents and ability to connect them at different angles opens so many possibilities to play with the layout and make the floor plan perfectly designed and best match the site environment. Our 3D designers will show you how it will look exactly by making a high quality render and placing it on your location exactly how it will be in reality.
We Guarantee, that you will have a great new experience and bring your event to the new level! We provide Double Guarantee on our Product and Service, and make sure that your event will be truly memorable and successful by our commitment to perfection in all details.
Download a FREE floor plan builder template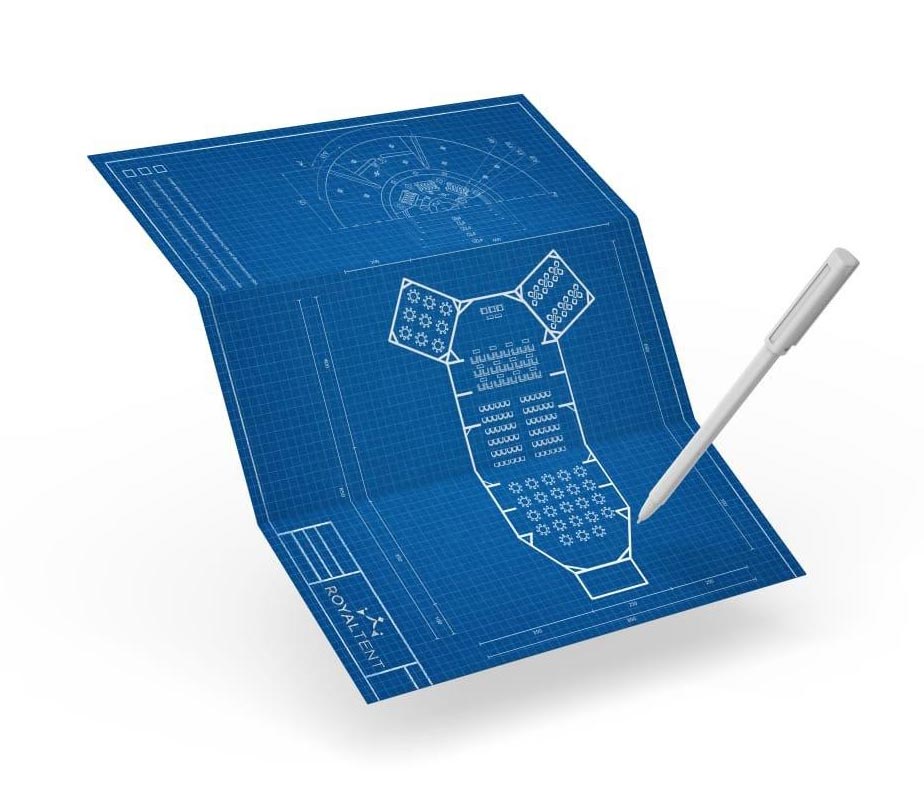 An easy tool to create an event layout plan in minutes, by a simple copy paste.
All main tent structures and furniture items are made in scale and you can combine and insert them into your space to see if it fits well. Measuring scale can help you create shapes (stage, podium, welcome zone, other tent sizes or areas, etc) with custom size.
It's Super easy, you don't need to have any special designer skills or install any special software, just use whatever you already have on your computer (Paint, Paint Brush or any other).
This FREE tool is made for event project managers, event planners and other professionals of the event industry to save their time on planning the event layout, calculating seating capacity inside given space and creating a presentable floor plan for their clients.
Please fill up the form and we will send you a download link with the file.
For some examples of the set up and inspiration you can check the Projects section of our website.
Tent elements
Here are the main parts and elements of the tent explained on one of our most beautiful arch tent structures Arch Hexa 260sqm with the side arch width of 10m.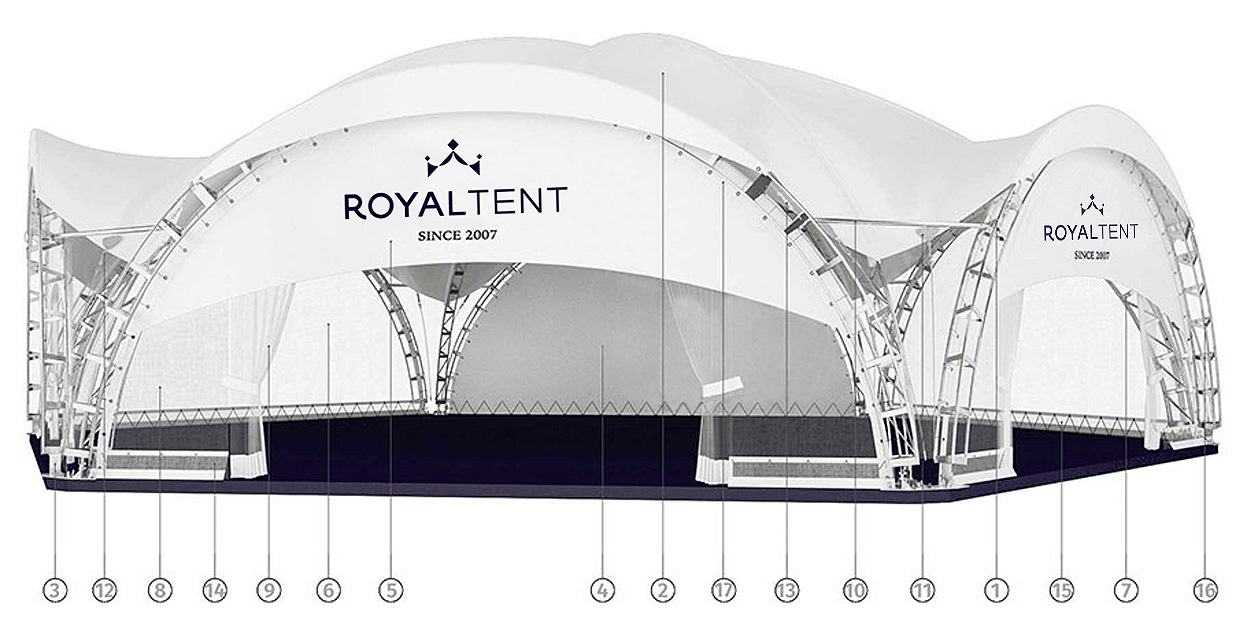 ---
Metal frame
Tent roof
Base plate
Solid/branded PVC wall
Branded Crescent
Solid transparent PVC wall
Central reinforced Beam
Transparent curtains wall
Sliding curtains from the side
Corner bar
Stainless steel plates
Tightening turnbuckle
Tightening turnbuckle
Tightening tie down straps
Tent Lacing
Carpet with floor base
Reinforced metal eyelets