Our company designs, fabricates and installs temporary structures, tents and exclusive tensile shades. During the last 12 years we have engineered several tent systems, including Arch Tent series, and installed multiple exclusive tensile architecture projects, as temporary structures and as permanent tensile architecture solutions.
Our structures are used for many purposes including:
Live events, public events and other event rentals
Restaurant and cafeteria extensions, for both seasonal and all year operations
Wedding and multipurpose event halls
Hotels, parks and recreation facilities shades
Sport facilities covered and shaded areas etc.
Design and structural engineering of any project is done using the latest fabrication technologies and engineering software, which results in precise execution and highest levels of safety and reliability. We provide structural warranty up to 25 years.
Made in UAE
In 2018 we opened full cycle manufacturing facility in the UAE, and most of our products are made here. Fabrication in the UAE ensures that we have the shortest lead time for any urgent enquiry.
Buying shades and tents directly from the manufacturer
We use the best, the strongest, and the most durable PVC with up to 15 years warranty against UV degradation. It has special PVDF coating that protects from UV, heat and sand and increases life time and a good look of the tent for years.
Majority of our structures have steel frame, which provides extra stability and safety against wind load (up to 126km per hour) and very high weight load capability.
Download the latest Catalogue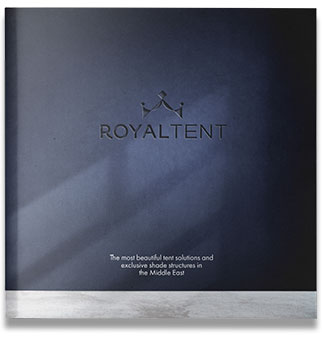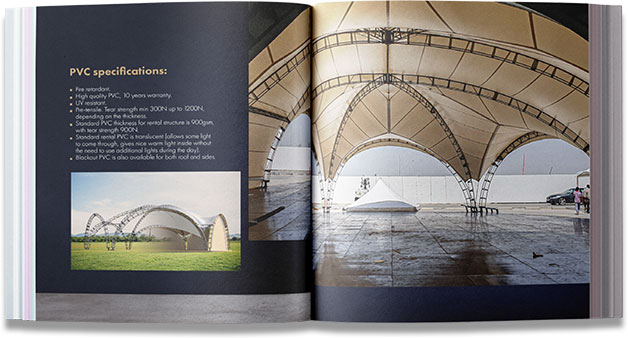 ---
Our main product and service advantages
Safety
Strength and durability with long life cycle
Attractive, modern and exclusive design
Quality materials and quality fabrication technique
Safety for health and environment
Extreme Wind resistance
UV Resistant, Water resistant, Dust and Sand resistant
Unique Branding and Printing options
Wide range of sizes and Modularity
Customisation
Great Value for Money
Get in touch and we will make a customized 3D render for you and show how beautiful the structure will look on your site.
We Guarantee, that the 3D image will match with reality 100%, or we refund the money!
---
Tent elements
Here are the main parts and elements of the tent explained on one of our most beautiful arch tent structures Arch Hexa 260sqm with the side arch width of 10m.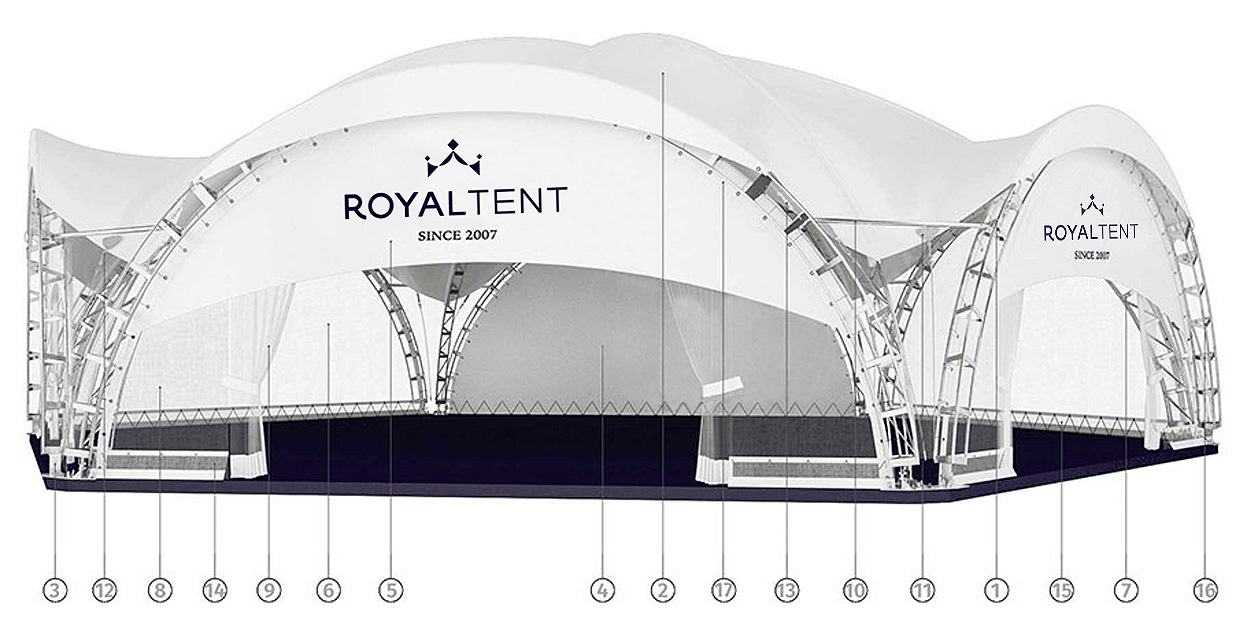 ---
Metal frame
Tent roof
Base plate
Solid/branded PVC wall
Branded Crescent
Solid transparent PVC wall
Central reinforced Beam
Transparent curtains wall
Sliding curtains from the side
Corner bar
Stainless steel plates
Tightening turnbuckle
Tightening turnbuckle
Tightening tie down straps
Tent Lacing
Carpet with floor base
Reinforced metal eyelets