---
Photos of tents and awnings
---
---
Dome Tent SPHERE - UNUSUAL AND STYLISH
Sometimes capricious nature makes us rethink about our plans. However, if you will obtain Dome Tent SPHERE, you will not have to refuse any event in the open air and spoil your holiday.
Dome Tent Sphere can become unusual and stylish decoration element at any time, thanks to the possibility to install additional illumination. With the help of such structures, you will be able to rationally organize a space for the upcoming event. In addition, the Dome Tent Sphere, which can be bought in our company RoyalTent, will help you to hide any surprise from prying eyes until a certain moment, even it have a very large size.
The advantages of Dome Tent SPHERE
Such kinds of tents have a solid and stable structure. Easy to install, made of non-flammable materials for your safety, quickly mounted on any surface and does not require a special foundation or structural beams. Heaters, air-conditioning and ventilation systems will ensure the absolute comfort to your guests. Dome Tent SPHERE ensures uniform warming and ventilation of the premises.

Use of the Dome Tents SPHERE
Modern geodetic dome tents SPHERE are the best choice for any kind of events.
A modern geodetic dome tent SPHERE is suitable for holding events of any format - from a modest ceremony to a large-scale concert. RoyalTent expert will be happy not only to offer you rental and installation services for dome SPHERE tents, but also they can make your event unique by branding and decorating your tent. In addition for that, the geodetic dome Sphere tent perfectly suits even for children's games in the warm season.
For adventure lovers, rental and installation of these types of tents will be the best decision, as it will be the most reliable protection from bad weather, whether it is wind or rain.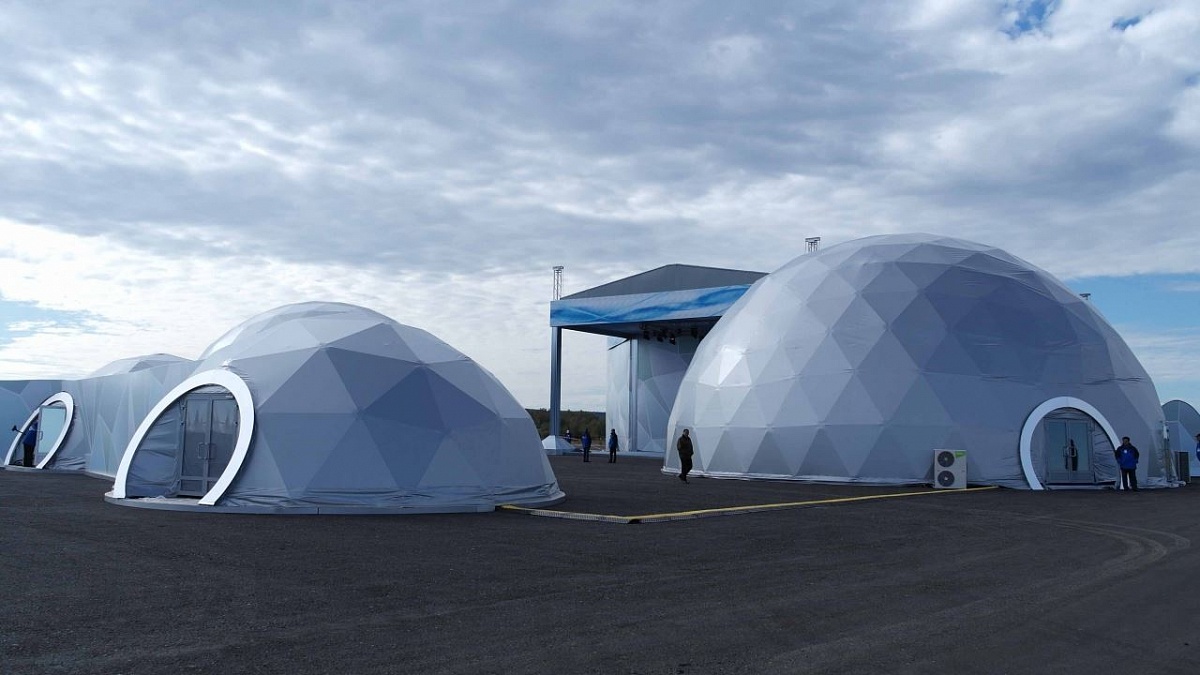 Why should I buy Dome Tent SPHERE in RoyalTent company?
Dome Tent SPHERE, which you can rent in our company for both short and long terms, has a number of indisputable advantages. For example, in addition to climate equipment, you can immediately order and install the necessary furniture that will match your event (glass doors, sofas, chairs, tables, benches, and even podiums with scenes).
Our trained and professional experts will quickly install the Dome tent SPHERE at any place you want, and after the event they will disassemble it.
Dome tents SPHERE sale in UAE
One of the main advantages provided by our company is the discounts system and pleasant bonuses for our regular customers. You can check it by yourself! Entrust the worries about organizing an unforgettable event by our company, forget about it and enjoy yoga training, a party, a fashionable presentation with the most comfortable and convenience conditions ever in our Dome tent SPHERE!
You will never forget the Joyful impressions that you will get inside our Dome tent SPHERE, even the most fastidious visitors.

Consultation on additional services:
Our managers will be happy to answer all your questions, help you to calculate services cost and prepare an individual commercial proposal.