Here you can choose and place an order to acquire a tent of the following types: Transformers outdoor tents, arched tents, cascading tents, spherical structures, classical tents and Customized structures - exclusive.

If you would like to buy a tent or awning, please feel free to contact us on: +971 7 243-35-77, or send us an E-mail to: info@royaltent.me
---
Photos of tents and awnings
---
---
Arch tents and awnings sale in Dubai
It's not always convenient to organize indoor events, if you have hundreds of guests, especially if the weather outdoor is nice. Any events, like wedding parties, banquets or any festival could be more effective if it will be organized in the open air.
If you are planning an event or you are an event organizer or you just decided to buy a wedding tent, but you don't knowhow to make the right choice: arched awning, classic, cascade or dome tent – just give us a call or leave a request on the website and our consultants will assist to make the right choice.
Modern prefabricated tent structures allows to organize any festive or business event out of the city, away from the hustle and bustle, what give your guests the same familiar level of comfort as in restaurants or cafes, trade or exhibition centers.
Buying Arch tents are the ideal choice to organize mass outdoor events. Because of the fact that we have our own manufacture of tent and awning structures, RoyalTent company offer you the best high quality materials with the best prices you've ever seen.
Arched tent structures manufacturing
Low cost of our products is not the only reason that makes the customers contact us:
This is a wide range of prefabricated structures that we can offer to our customers – In our company you will find not only compact tents with size of ​​12 square meters, but also impressive structures with sizes of ​​several hundred square meters, which could be easily accommodated at any place;

Our company provides the most modern and high quality technical level in producing and designing such a tent, which guarantees high quality, simplicity, easy to install, reliability, safety and a high level of comfort;

One of the main features of many of our awnings, is that they are made by a modular principle, which allows you to expand the covered area of the event at any time by combining several similar structures together;
In addition to the prefabricated tents, we also offer a variety of additional accessories and equipment that you can rent or buy:
Flooring;
WPC decking;
Air conditioners and heaters to ensure a nice and comfortable climate;
Lighting appliances to create the most suitable atmosphere for the event;
Furniture for comfortable accommodation of your guests, etc.
Features of our tents are many: For example, easy to install and to maintain, high level of safety, reliability, and comfort for all who are inside the tent. Our products are made by a modular principle, which allows you to expand the covered area of the event at any time by combining several similar structures together.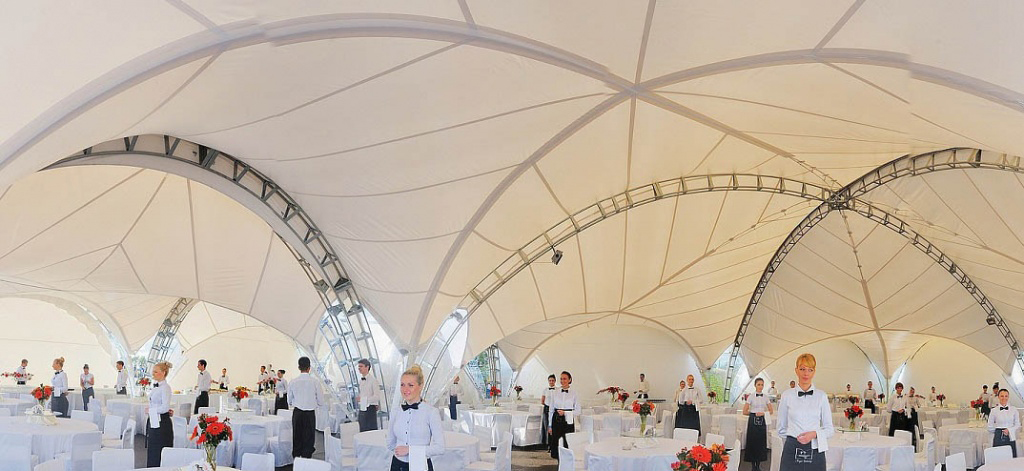 Arched tents installation
This is a very complicated operation, which need at least a team of 5 trained professional specialists, only familiar with the basic technical aspects, and also with the requirements of safety engineering to implement it. Before installation, it's very important to perform an analysis of the project site to know (surface type, availability of other objects, wind condition, etc.).
Fastening construction is performed using cargo brackets, steel stakes or anchors. The dismantling of the tent should also be carried out according to all rules. After dismantling, you have to carefully clean and dry the fabric, and mark the elements and pack them up.
Arched tents for beautiful celebrations

In many Hollywood movies, you can see pictures of luxury outdoor weddings. Bright sunlight, magnificent flowers fragrance, lovely green lawn, great sounds of the wedding band, hundreds of guests in luxury and stylish clothes, active waiters, carrying drinks and snacks for guests. Competitors have a lot to envy us!
Buying an arched tent will be a profitable and correct choice to organize such events, like weddings, anniversaries, advertising and many other events, thanks to its elegant forms, which is indispensable for carrying out magnificent holidays and celebrations.
The installation of modern tent structures takes not a lot of time - and now you already have an excellent place to festive celebration, which combines the advantages of indoor and outdoor parties with fresh air and bright colors of the surrounding nature.
We produce arched tents of different capacities, which make it easy to organize a festive event for any number of guests. RoyalTent company offer you not only buying large tents up to 600 square meters, but also gives you the opportunity to rent a wide range of tents for small family celebrations to which only the closest relatives and friends are invited.

Consultation on additional services:
Our managers will be happy to answer all your questions, help you to calculate services cost and prepare an individual commercial proposal.