Do you plan a celebration? But at the same time you want to relax outside in the fresh air or to hold a conference and escape from city noise and dust? Rent a tent would be the optimal solution. Awning tents could be used to accommodate various services for large-scale events: security centers, mobile headquarters and medical centers.
This will reliably protect you from wind, rain and sun. Depending on weather and the seasons, you will be able to install lighting equipment, and if it cold, you can choose the necessary heaters. If it's hot outside, then we will help with air conditioning the tent. These structures are very small and can be installed on any surface: on the ground or on a lawn, in the water, forest or in any stationary constructions.
---
Photos of tents and awnings
---
---
Arch tents Rental in Dubai

Arch tents - this is one of the various types of tents, produced by ROYALTENT company.
It called Arch tent, thanks to the magnificent design that it have, which is made in the form of an arch.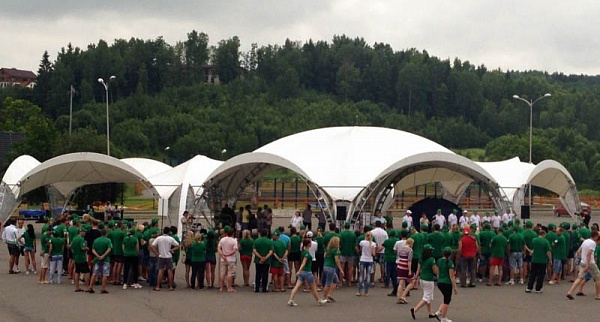 The main purpose of this kind of tents is to hold all kinds of events and celebrations in the open air: birthday parties, presentations, exhibitions, sports competitions or press conferences.
The most popular tents with an arched dome usually used for wedding parties. And that is not by chance, because the white arched tent for the wedding has a very spacious structure, as well as a very original design, elegant, airy and weightless, which is perfectly suited for such a party like a wedding party.

Our collection now includes an arched white tent without walls, which is the ideal choice for weddings during the warm season. And if the wedding celebration will be scheduled in cooler days, then you can rent an awning with walls from our company, and celebration will take place utterly regardless of any vicissitudes of the weather.
And if you're planning to organize any outdoor event, we recommend street arched tents, which are the best choice for this kind of events. The features of awnings rental are that they could help to create a great lovely place and festive atmosphere in just a few hours.
Advantages of awnings structures
You can rent street arched tents from RoyalTent company at the lowest possible price and enjoy a lot of advantages:
Aesthetic design and attractive appearance. Additionally, you can decorate the interior space of the tent with balloons, garlands, flowers and other festive attributes;



High ceilings with large internal volume, which allows you to accommodate different numbers of people, as well as to place furniture, bar counters or any other equipment for the upcoming event.


In our company you can rent arched tents of various sizes, in any quantity you need, considering the scope of the celebration, the number of invited guests and more;


Mobility and transportability. They are simple and easy to assemble, dismantle and flexible to transport, which will help to organize any event in any convenient for you place;


Strength, reliability and safety. We ensure excellent execution of our work and guarantee the high quality of arched tents, leased from our company, as well as their ability to withstand any loads or stresses.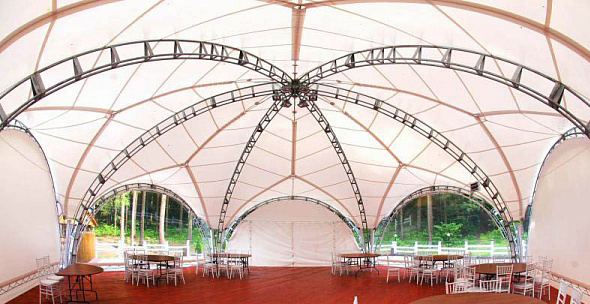 Why should you choose our company to deal with?
We offer several types of tents with different sizes and shapes, designed to organize both of winter and summer events in the open air.

Royaltent company would be happy to offer tents for rent to both of entities and individuals customers, ensuring an individual approach and high-level service for each customer.

We ourselves are manufacturer, as we have devoted ourselves to manufacturing premium quality tents, so you will find in our company the most favorable lease conditions for you.
If you have any questions concerning rental terms and conditions, please feel free to get in touch with one of our specialists who will be happy to assist you.
Consultation on additional services:
Our managers will be happy to answer all your questions, help you to calculate services cost and prepare an individual commercial proposal.